Comfort, beauty, serenity
Pleasant Valley is located in the heart of some of the best deer and elk hunting country in Colorado. Access to the Cimarron State Wildlife Area is just a few minutes drive away by OHV or passenger vehicle. Access to public lands, national forest and at least 75 miles of off road vehicle travel and trails within unit 65 is provided by two OHV and automobile permissable roads beginning about a 1/4 of a mile on either side of Pleasant Valley. You can hike straight in to unit 64 across highway 50 from our location or use OHV trails for access into that unit about 1 1/2 miles away. Get your animal unofficially scored on the premises. Local topographical and hunting maps can be purchased in the Pleasant Valley store as well as basic hunting and camping gear, knives and clothing.
Licenses for deer, elk, small game, turkey, bear, mountain lion, fishing and all other Colorado licenses can be purchased in the Pleasant Valley store.

Rifle seasons require a two day non-refundable deposit at the time of booking and a two month cancellation notification or the reserving party will be charged for the entire booking. There is a required minimum stay for each rifle season: 1st = 4 days, 2nd = 7 days, 3rd = 7 days, 4th = 4 days.

See the great pics below of successful hunts!

Tito & Bull Elk - Archery 2014
Joe's Mule Deer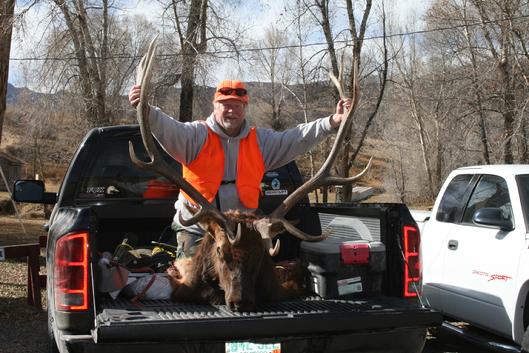 6 x 6 Unofficial Boone & Crockett green score 298 4/8
Jason's Muley - Unofficial Boone & Crockett Green Score 174 5/8 - 3rd Rifle 2014
Gary's Elk - 2014
Joe's Big Elk
From West Virginia...2nd Rifle Season 2014
From Wisconsin - 6 x 6 Unofficial Boone & Crockett green score 263 4/8
Mule Deer Cimarron, Colorado
His First Bull - Archery 2012 - Cimarron State Wildlife Area
From Vegas...What happens in Cimarron...
Mule Deer Cimarron, Colorado
Cow & Bull Elk
Bill and Bull Elk
Elliott & J.D. - Archery 2012 Bulls
Easton's First Elk
Here is how Cyd hunts :-)
Pleasant Valley - 84100 E US Highway 50, Cimarron, CO 81220 - (970)249-8330 Last updated Sunday, May 14th, 2023